Shelter Lockdown & Active Shooter Mitigation
Security Management Services - SMS, LLC - Austin Texas - (512) 263-4911
Standard Response Protocols
The Standard Response Protocol (SRP) is based not on individual scenarios but on the response to any given situation. Like the Incident Command System (ICS), SRP demands a specific vocabulary but also allows for great flexibility.
The premise is simple - there are four specific actions that can be performed during an incident. When communicating these, the action is labeled with a "Term of Art" and is then followed by a "Directive." Execution of the action is performed by active participants, including students, staff, teachers and first responders.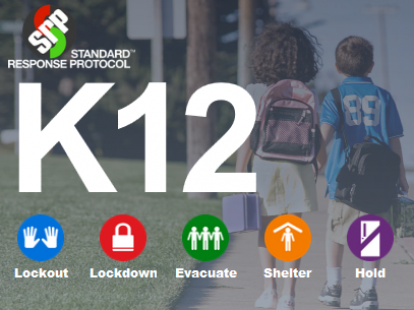 • Lockout is followed by the Directive: "Get Inside. Lock Outside Doors" and is the protocol used to safeguard students and staff within the building.
• Lockdown is followed by "Locks, Lights, Out of Sight" and is the protocol used to secure individual rooms and keep students quiet and in place.
• Evacuate is always followed by a location, and is used to move students and staff from one location to a different location in or out of the building.
• Shelter is always followed by a type and a method and is the protocol for group and self protection.
These specific actions can act as both a verb and a noun. If the action is Lockdown, it would be announced on public address as "Lockdown! Locks, Lights, Out of Sight." Communication to local Law Enforcement Agency would then be "We are under Lockdown." Each response has specific student and staff action. The Evacuate response is always followed by a location: "Evacuate to the Bus Zone." Responses can also be combined: "Evacuate to Hallway; Shelter for Tornado; Drop, Cover and Hold."
Since its introduction in 2009, the Standard Response Protocol has been adopted by districts, departments and agencies across the US and Canada. The conformance to FEMA guidance about plain language and the simplicity of implementation has resulted in thousands of schools and law enforcement agencies implementing the program.
As organizations began adoption of the program, an ongoing commitment from The "I Love U Guys" Foundation has been to keep the materials relevant. In 2015, the Foundation released a total refresh on the materials, practices and guidance.
System Features & Options
Call For Your Free Quote Today - (512) 263-4911