Austin Texas - (512) 263-4911
SMS Professional Services
Fire & Life Safety Systems
Whether it's a home or business fire system, our licensed professional technicians can inspect your current systems to see if they can be used with our monitoring service or upgraded and newer systems can be installed as needed.
Home and business fire systems generally consist of smoke detectors in every room, and additionally may contain heat & gas detectors. Business & big industry systems often require additional things such as emergency lights, sirens, fire suppression systems, extenguishers, emergency fire pulls, panic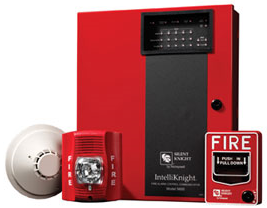 buttons and control panels. To help estimate costs for installing systems you can use our convenient contact form to request a visit from our technicians to review your systems and provide a free quote. Once your systems are ready for monitoring, they will communicate with our Central Centers and your service is billed at our standard monthly fire systems monitoring charge of just $34.95/mo.
Call For Your Free Quote Today - (512) 263-4911