Intrusion & Burglary Systems
Security Management Services - SMS, LLC - Austin Texas - (512) 263-4911
SMS Burglar Alarm Systems & Monitoring
This is your first line of defense against break-ins and intruders. Listed below are several options that can enhance the effectiveness of home, business and big industry intrusion systems.
Some options beyond just your basic system would include motion detectors, garage coverage, window break sensors and audible sirens and flashing lights to alert you and neighbors too if desired. Your system is not just alerting you of an intruder though, it's also being monitored 24/7 by our Central Station Operators who can immediately dispatch the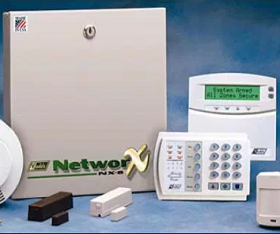 police department as needed. Your plan is customized to what you need, do we attempt to contact you and designated people first before dispatching or immediately dispatch police? Other deterents to crime can be yard signs and window decals, cameras mounted wherever you want, and recording devices to capture video evidence either to your own video recorders or to our Data Centers using a fee based plan.
Some final thoughts to consider:
Your home owners or business insurance policy may provide you with a discount on your premiums by simply using a monitoring service so check with them to find out how much you can get.
Whether you're a home owner, a business or a big industry facility you should know that the Austin City ordinance requires you to register your burglar alarm system with the city! It doesn't cost much and is easy to do online, so make sure to register your system to avoid being fined. We have provided some useful links to to assist you with that and also provide some basic information about how insurance discounts work, so take a look to the right in our side bar area for some useful assistance for those things.
Finally, you also have options of connecting to our monitoring service via standard phone lines, through your internet IP connection, and includes a radio backup option to make sure your system is monitored even in the event of a complete power outage.
Call For Your Free Quote Today - (512) 263-4911